This shop has been compensated by Collective Bias, Inc. and its advertiser. All opinions are mine alone. #SnackItAndPackIt #SeasonalSolutions #CollectiveBias
I remember when I was a little girl, one of my favorite times of year was when it was time to fill out the Valentine's cards for the whole class. Back then it was only that one time of the year, but that sure has changed. Once my girls started school, it seemed like they get class treats for pretty much every holiday. Okay, okay, I'll admit it. I love it! I do. From Halloween, to Christmas, to St. Patrick's Day, to Valentine's Day. I love all of the holidays, this year I am putting an emphasis on explaining Dia de los Muertos to them and I am encouraging them to share the beautiful tradition with their classmates.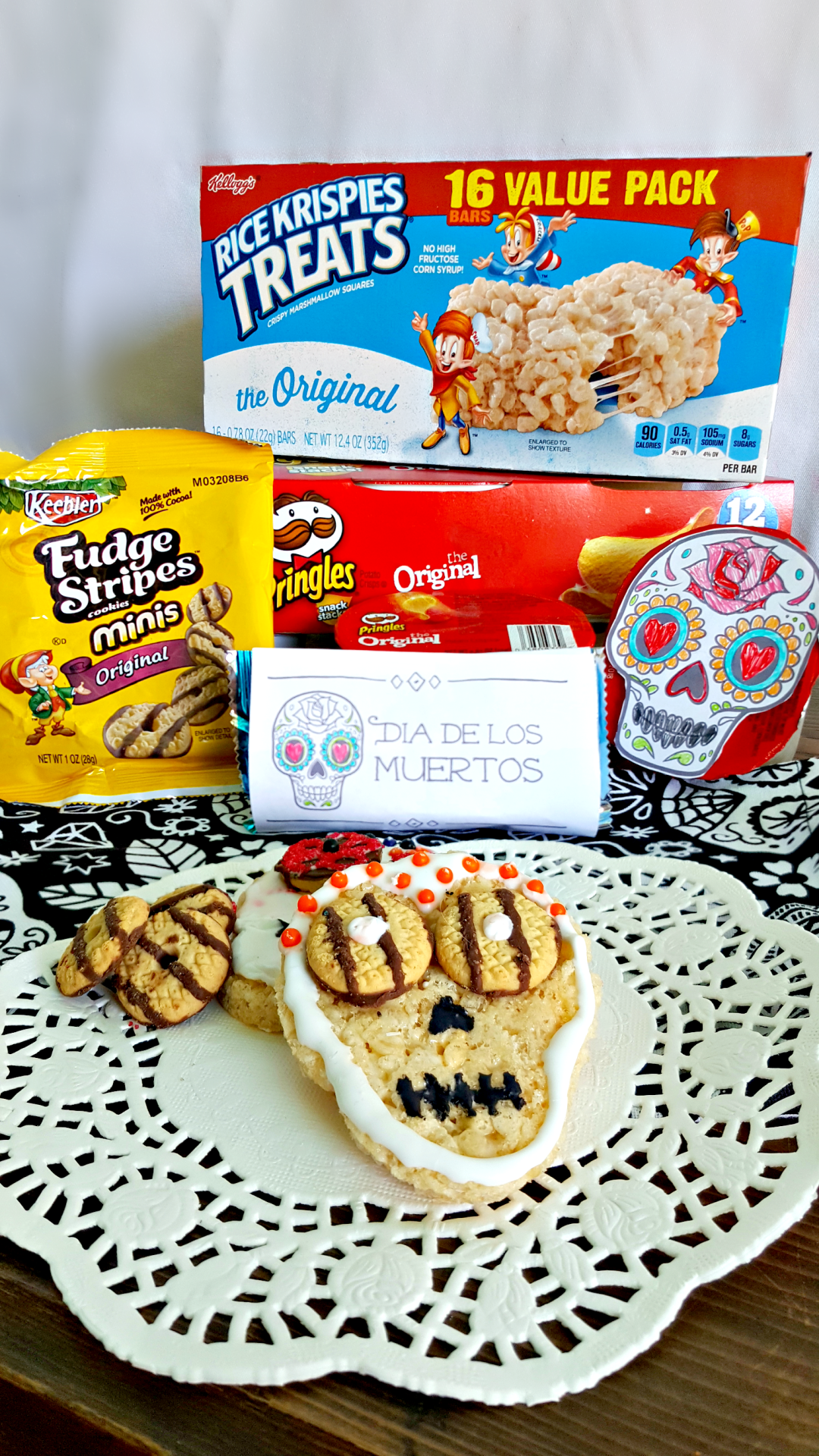 Today I'm doing three things. One, I am sharing some printable sheets that you and your kids can print, color (or leave blank) and wrap around treats to share with the class. Two, I am showing you an easy way to use some of your favorite treats to create your very own sugar skull or calavera. Three, do you see that picture above? It's clickable! If you hover on the picture it will take you to where you can buy those treats. I'm literally taking care of pretty much everything you need. You're welcome.
Over the years I have definitely opted for staying away from giving candies to the kids. Let's keep it real, they will get plenty at Halloween. I love finding deals on snacks and even more so on variety packs. I found these at my local Ralph's but you can visit any Kroger or Kroger banner store to find them. I find myself having to keep my eyes peeled for good deals. Just like this coupon
right here
for Kellogg items at Kroger. It makes the special pricing on Pringles Snack Packs and Keebler Cookie and Cheez-It Variety Packs at your local Kroger or Kroger banner store even more... special.
To create your own Calavera Rice Krispies Treats, you will need a prepackaged Rice Krispies Treat, flattened out with a rolling pin. Use a skull shaped cookie cutter or free-hand, the shape is pretty basic. Then trace the outline with white cookie icing, you can fill in with icing, or just leave the outline, your choice. Then use two Mini Fudge Stripe cookies as the eyes and decorate as much as you'd like using colorful icing and sprinkles. It just serves as a fun way to bring up the conversation about Dia de los Muertos and make it fun for the kids.
Prepackaged Rice Krispies Treats, are just classic and have been a part of families for generations. Honestly, I used to be reluctant to buy the prepackaged ones, but then life told me, "Give yourself a break Mama!" It's okay to make things easier on yourself every now and then and they're so good!
Oh, and Mini Fudge Stripes, these are my favorite cookies. I am not a big chocolate fan, so for me, a little bit goes a long way. These shortbread mini cookies are striped with 100% real cocoa fudge! (and their snack pack size makes them guilt-free.)
Another favorite of mine are Pringles! I'm starting to notice a pattern here, I tend to buy my favorite snacks for the kids. I prefer baked chips over non-baked chips and I kinda love that the Pringles® Snack Stacks are the perfect portion for the kids. So for these, I thought it would be fun to just add a little colorful calavera or sugar skull to the top. Simple and easy, treat for the classroom.
I have a fun and easy printable sheet for you and your kids. I say kids, because I am really excited that my girls can do the work now. No longer are the days of me doing all of the work for snacks and them just adding stickers instead of writing their name 25 times over and over again. Now, I can just supervise and give my input.
This year I am also very excited to finally start to share the history and culture behind Dia de los Muertos with my girls and for them to share it with their classmates. These printable sugar skulls or calaveras make starting the conversation easier. You can see my other post for more Dia de los Muertos printables and history.
If you're like me, you're always looking for ways to make the every day more fun. You can check out more Kellogg Halloween inspiration by visiting the
social hub
and don't forget to check out these savings right
here
.